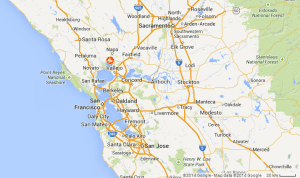 According to the
USGS
, at 3:20AM, an earthquake measuring 6.1 on the Richter scale shook the South Napa city area in Northern California, causing major damage and dozens of injuries.
There were approximately 89 injuries reported, including three severely injured from falling debris, the most serious of those was reportedly a child in critical condition, who was moved by medevac to UC Davis Medical Center after being stabilized, apparently stuck by a falling chimney. Injured residents were transported to St. Joseph's Queen of the Valley Hospital, where staff triaged the 80+ patients in tents outside of the Emergency Department. Most of the injuries turned out to be non-life-threatening; including lacerations and minor trauma cases.  According to the hospital spokesperson, Vanessa DeGier, there were two waves of patients, one immediately following the quake and another within a few hours, trickling off to a total of 89 by 10AM local time. By all early accounts, the hospital did an excellent job responding to this challenge.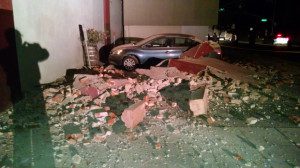 In terms of property and infrastructure damage, the City Emergency Operations Center was operational at 7:59AM, and the Fire Department responded to two separate fire events that reportedly consumed 6 mobile homes, 4 in one location where water main breaks disrupted water pressure, preventing Fire suppression. Other damage included approximately 30 water main breaks, roads buckling and several older buildings in the downtown Napa area damaged.
Numerous Unreinforced Masonry Buildings (URM Buildings) were severely damaged. Rubble from collapsed walls fell to the street in several locations, but did not cause many injuries because of the time of day. City Officials reported that the majority of URM Buildings in the city have met mandatory guidelines for seismic upgrades. Napa city declared a state of Emergency and officials are conducting assessments of building damage, reporting that it seemed there was no catastrophic damage of bridges or other major infrastructure, but that risk of fires and gas leaks continue, especially as there is a 54% chance of aftershocks at a 5.0 or greater level according to CBS News, with only a 5% chance of one registering above 6.1.

Napa City has done an admirable job keeping the public informed through the city website with updates that include injuries, utilities, fires, street closures, shelters, gas lines, etc. While the site seemed to be overwhelmed earlier on, it reflected the detailed status as of 11AM, eight hours after the temblor.